THE TURNED URN
AND
ARTISTIC WOODTURNINGS
----------------------------------------------------------------------------------------------------------------------------------------------------------------------------------------------------------------------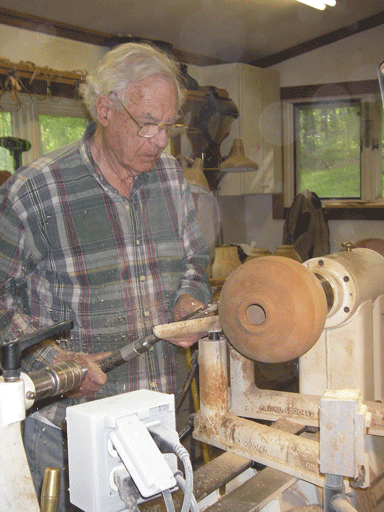 Don has been turning for over 26 years. He was an architectural production turner turned hobbyist. Now in retirement, Don enjoys turning all manner of objects from small trinkets to large salad bowls. But he specializes in beautiful urns. He manages to spend at least 4 hours a day in his shop.
Being a wood junkie, he is constantly looking for downed trees with exceptional figure.
As well as selling his work at local art shows such as at the Burwell Morgan Mill in Millwood, VA, Art in the Foothills in Bluemont, VA and The Waterford Country Store in Waterford, VA (famous for their renouned arts and crafts fair the first week in October), he was a founding member of The Gateway Gallery, a cooperative art gallery west of Round Hill, VA.
Don has taught many others to turn and is a member of and active in the American Association of Woodturner, the Apple Valley Woodturners in Winchester, VA and the Catoctin Area Turners in Leesburg, VA.
Don enjoys donating pieces of his work for auction for charitable purposes and his work has also been recognized in a hardcover book titled Reflections of Clarke County Virginia featuring over 100 area artists.
----------------------------------------------------------------------------------------------------------------------------------------------------------------------------------------------------------------------

ALL IMAGES ARE COPYRIGHTED...................PLEASE RESPECT THE ARTISTS

Donald Maloney, Harriet Maloney, Mykl Messer and J Riley Stewart
----------------------------------------------------------------------------------------------------------------------------------------------------------------------------------------------------------------------

THE TURNED URN

17063 Raven Rocks Road

Bluemont, VA 20135

(540) 554-8223

caffeyh@aol.com
----------------------------------------------------------------------------------------------------------------------------------------------------------------------------------------------------------------------


[Home][About The Turned Urn][Special Links]